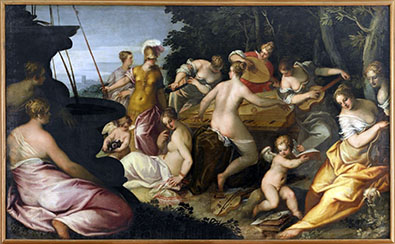 Hans Rottenhammer. Minerva and the Muses, 1603.



Florimel's Ditty

from THE MUSES' ELYSIUM



How in my thoughts shall I contrive
The image I am framing,
Which is so far superlative,
As 't is beyond all naming?
I would Jove of my counsel make,
And have his judgment in it,
But that I doubt he would mistake
How rightly to begin it.
It must be builded in the air,
And 't is my thoughts must do it,
And only they must be the stair
From earth to mount me to it.
For of my sex I frame my lay,
Each hour ourselves forsaking,
How should I then find out the way,
To this my undertaking,
When our weak fancies working still,
Yet changing every minute,
Will show that it requires some skill,
Such difficulties in it?
We would things, yet know not what,
And let our will be granted,
Yet instantly we find in that
Something unthought of wanted.
Our joys and hopes such shadows are
As with our motions vary,
Which when we oft have fetched from far,
With us they never tarry.
Some worldly cross doth still attend
What long we have been spinning,
And ere we fully get the end,
We lose of our beginning.
Our policies so peevish are
That with themselves they wrangle,
And many times become the snare
That soonest us entangle ;
For that the love we bear our friends,
Though ne'er so strongly grounded,
Hath in it certain oblique ends,
If to the bottom sounded ;
Our own well wishing making it
A pardonable treason,
For that it is derived from wit,
And underpropped with reason.
For our dear selves' beloved sake,
Even in the depth of passion,
Our centre though ourselves we make
Yet is not that our station ;
For whilst our brows ambitious be,
And youth at hand awaits us,
It is a pretty thing to see
How finely beauty cheats us ;
And whilst with time we trifling stand
To practise antique graces,
Age with a pale and withered hand
Draws furrows in our faces.





---

Source:
A Sixteenth Century Anthology. Arthur Symons, Ed.
London: Blackie & Son, Ltd., 1905. 267-269.


---
| | |
| --- | --- |
| | to Works of Michael Drayton |
Site copyright ©1996-2022 Anniina Jokinen. All Rights Reserved.
Created by Anniina Jokinen on September 25, 2002. Last updated on September 9, 2022.





The Tudors

King Henry VII
Elizabeth of York

King Henry VIII
Queen Catherine of Aragon
Queen Anne Boleyn
Queen Jane Seymour
Queen Anne of Cleves
Queen Catherine Howard
Queen Katherine Parr

King Edward VI
Lady Jane Grey
Queen Mary I
Queen Elizabeth I


Renaissance English Writers
Bishop John Fisher
William Tyndale
Sir Thomas More
John Heywood
Thomas Sackville
John Bale
Nicholas Udall
John Skelton
Sir Thomas Wyatt
Henry Howard
Hugh Latimer
Thomas Cranmer
Roger Ascham
Sir Thomas Hoby
John Foxe
George Gascoigne
John Lyly
Thomas Nashe
Sir Philip Sidney
Edmund Spenser
Richard Hooker
Robert Southwell
Robert Greene
George Peele
Thomas Kyd
Edward de Vere
Christopher Marlowe
Anthony Munday
Sir Walter Ralegh
Thomas Hariot
Thomas Campion
Mary Sidney Herbert
Sir John Davies
Samuel Daniel
Michael Drayton
Fulke Greville
Emilia Lanyer
William Shakespeare


Persons of Interest
Visit Encyclopedia


Historical Events
Field of the Cloth of Gold, 1520
Pilgrimage of Grace, 1536
The Babington Plot, 1586
The Spanish Armada, 1588


Elizabethan Theatre
See section
English Renaissance Drama


Images of London:
London in the time of Henry VII. MS. Roy. 16 F. ii.
London, 1510, the earliest view in print
Map of England from Saxton's Descriptio Angliae, 1579
Location Map of Elizabethan London
Plan of the Bankside, Southwark, in Shakespeare's time
Detail of Norden's Map of the Bankside, 1593
Bull and Bear Baiting Rings from the Agas Map (1569-1590, pub. 1631)
Sketch of the Swan Theatre, c. 1596
Westminster in the Seventeenth Century, by Hollar
Visscher's Panoramic View of London, 1616. COLOR