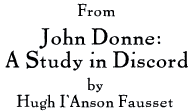 [Anne More]



Editor's note:
Fausset's book on Donne is replete with conjecture, and should not be taken as fact.
Written in 1924, the book is chauvinistic, but this excerpt was chosen regardless as
one example of the scholarship of that time.

** Nevertheless, neither the fear of angering so austere a master, nor any prudent regard for his own interests, now so favourably placed, were to stay the wilful motions of Donne's romantic heart. In January, 1600, Lady Egerton died, and her place as presiding hostess was taken by her favourite and indeed almost adopted niece, Anne More, a gentle and retiring girl of sixteen.This arrangement suited her father, Sir George More, well. A hot-headed and extravagant man, who had forced his way into the Queen's favour and cherished high political ambitions, he was prevented from indulging his lavish inclinations at Loseley, his home in the country, by the fact that his father, who survived to an extreme old age, preserved control over the family purse to the end. He appreciated therefore highly the privilege of being a guest at York House on the frequent occasions when he wished to escape to London, while the society which he enjoyed there was as attractive as it was influential. And while his sister's death threatened an end to this agreeable arrangement, the succession of one of his daughters to the post of honour served to prolong it at least for a time.
Donne, as an intimate of the family, must already for more than two years have been thrown into fitful but discreet contact with his master's young niece. We may conjecture, however, that the vigilant eye of her aunt had prevented a polite acquaintanceship from developing into anything warmer, although a young secretary of such pronounced talent and appearance cannot have failed to make some impression upon the susceptibilities of girlhood -- nor can we fancy that any compunction would have prevented Donne, already well schooled in the strategies of clandestine love-making, from advancing his case, so far as circumstances allowed, if his feelings had been at all affected. But even in a social environment where girls quickly matured, a child of fourteen could scarcely have excited such feelings. Now, however, circumstances had conspired to make her a woman at one stride; the sentry was gone from the walls and there was no one to take her place, no one indeed in the household, save the Lord Keeper himself, of mature years.
The girl's permanent residence at York House, together with her probable incapacity at first to cope with the responsible duties so suddenly thrust upon her, duties in which a clever young secretary was so clearly competent to assist, would in themselves explain a rapid growth of intimacy. Moreover, her youth and innocency, precociously associated with the position of presiding hostess, must have appealed strongly to Donne, to his new appreciation of aristocracy and its gracious gestures, and of purity as the antithesis of his immediate past.
Indeed, what a charming picture this child must have made playing the mistress with a grave dignity which belied, while it enhanced, her tender years! Donne had degraded his own youth with women of experienced sensuality. From such muddy waters he turned to a fresh spring with the renewed thirst of a man still morally fevered, of one who desired by chaster emotions to cleanse his conscience of sin and dignify at all costs the passion of which he feared that he was yet the slave.
The manner in which he was driven to effect this was not of the happiest, and the consequences were so painfully, so disproportionately prolonged, that we may say without exaggeration they governed the rest of his life.
For nine months Donne and Anne More pursued a secret courtship. The young lady was compliant: her own inexperience and the headstrong charm of her lover were doubtless arguments enough. Then an event occurred which brought to a head a sentimental relationship that otherwise, it is just possible, might have died of time and familiarity.
Sir Thomas Egerton announced his intention of marrying again. He did so in October, and forthwith Anne More returned to her father's house at Loseley, not however before the lovers in the distraction of parting had plighted their troth. Separation only intensified Donne's passion. He poured it out in indifferent sonnets to his friends Christopher and Samuel Brooke, in which he attested that

'Strong is this love which ties our hearts in one,
And strong that love pursued with amorous pain,'

and lamented

'Love's hot fires, which martyr my sad mind.'

He has shed in truth the last element of that detachment from the object of his passion, which had given such precision to his earlier verse. He was too abandoned a loved to be an artist; he lived for the times when Sir George More brought his daughter to town. In his hunger for communion and sympathy he seems even to have taken the younger members of his master's household into his confidence. He was not unduly sensitive to the invidiousness of his position. The same oblivious egoism which had driven him into every kind of unpleasant liaison, now bade him cast discretion to the winds. His only anxiety was lest those in authority, learning of his sentiments, should raise insuperable barriers against their gratification. Piratical as he was, with more than youth's own haste to win its goal by the nearest and speediest route, he determined to act. Anne More was not of the stuff of resistance, even had she questioned the wisdom of her lover's project. All her life she was eminently, pathetically malleable. Parliament was to be dissolved in December, and she might then be lost for ever in the prison house of Loseley.
Donne summoned the kindly Christopher Brooke to his assistance. He should give the bride away. His brother Samuel had, conveniently enough, recently taken Orders: he should perform the ceremony. Francis Wooley, always friendly and adventurous, should requite some small services rendered to him on the Azores expedition: he should circumvent the suspicions of relatives, and bring the bride safely to church. A menial should be suborned as witness. The strategy was drafted with a general staff's precision, and it worked according to plan. Shortly before Christmas of 1601 Donne and Anne More were man and wife.


Source:
Fausset, Hugh I'Anson. John Donne, A Study in Discord.
New York: Russell & Russell, 1924, Reissued 1967. 92-5.


---
| | |
| --- | --- |
| | to John Donne |


Copyright © 1996-2003 Anniina Jokinen. All Rights Reserved. Violators will be prosecuted.
Created by Anniina Jokinen on March 1, 1997. Last updated on August 31, 2003.

Background by the kind permission of Stormi Wallpaper Boutique.