The Life of George Gascoigne
(c.1539-1578)

by John Butler

1. Biography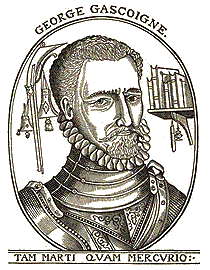 There is some confusion about the biography of George Gascoigne, particularly since recent (as yet unpublished) research by Dr. Evelyn Lord of Cambridge University has revealed that there was more than one person of this name living at the same time, and that at least one of the others was a poet. Biographers seem to agree that our man was a Cardington (Bedfordshire) Gascoigne, born within one or two years of 1539, the son of Sir John Gascoigne, a landowner and farmer. George is said to have attended Trinity College, Cambridge, although the records do not include his name, and by 1555 he seems to have been in London at Gray's Inn. He even sat as a very young MP in Queen Mary I's last Parliament (1558), according to his biographer Prouty.
      Gascoigne first went to court as a replacement for his father as almoner at Elizabeth I's coronation, and after that he spent his life trying to establish himself as a courtier, something he consistently failed to do and which failure he shared with a later courtly aspirant-cum-poet, John Donne. He did make some connections, however, and married Elizabeth Breton, a wealthy widow, but even here things began to go wrong. It seems that Elizabeth had already been contracted in marriage to one Edward Boyes (before she met Gascoigne), but that she did not consider the marriage valid. Boyes, unfortunately, disagreed, and took them to court. They were separated, and Elizabeth's goods impounded, but after much legal wrangling they finally won their case.
      In 1566 Gascoigne wrote his play Supposes, a translation of Ariosto's I Suppositi (1509), for a carnival at Gray's Inn. Gascoigne, like his father, tried his hand at farming, but he was not very successful and he was not helped by his father's vow to disinherit him nor by his mother's stealing his sheep. His own brothers, also, took actions against him in court for various reasons, and by 1570 Gascoigne had already been in prison for debt. Getting re-elected to Parliament was one way out, because it provided one with immunity, but when Gascoigne tried that tactic in 1571 he was disallowed by the Privy Council as being "a notorious ruffian....an atheist and godless person." There was nothing for it but to join the army, and late in 1571 we find Gascoigne volunteering to serve in the Netherlands under William the Silent.
      In 1572 Gascoigne returned to England and wrote a wedding masque for Lord Montague, and prepared for press his collected works under the name of A Hundreth Sundry Flowres. His biographers mention further catastrophes which made him return to Holland almost immediately, but in any case he was accused of treason, acquitted, but lost most of his personal assets. In a new book, The Steele Glas, he attacked the futility of war, but in 1575, when Gascoigne was again in England, he had to revise parts of Flowres to satisfy the censors. Much of the rest of his literary output, which includes the famous Adventures of Master F.J., was revised to contain declarations of his good moral intentions, and hence the major works, including F.J., have two versions.
      In 1576 Gascoigne's luck seemed to turn, for Lord Burghley appointed him to head a "fact-finding" mission (as we would call it today) to Paris and Antwerp, which produced Gascoigne's Spoyle of Antwerp, a vivid first-hand account. In October 1577, however, Gascoigne came down with an unspecified illness which killed him, just at the time when his life seemed to be turning around.


2. Works

      Gascoigne's first significant work was the play Supposes, which was a substantial contribution to the introduction of Italian erudite comedy into England, and which Shakespeare used as a source for the sub-plot of The Taming of the Shrew. Gascoigne was a fine translator, trying to remain faithful to the spirit of Ariosto's Italian text while at the same time endowing it with uniquely English characteristics of bawdy wit and double entrendre, which would have appealed to his student audience.
      Critics have concentrated on Gascoigne as a poet because they have felt, since the time of C.S. Lewis at any rate, that the early period of the Renaissance in England produced few poets of note. Apart from Surrey and Wyatt, and perhaps Sackville (co-author of Gorboduc), late Henrician and Marian literature has been dismissed as, in Lewis's word, "drab." More recently, however, Alicia Ostriker, writing in Christopher Ricks's anthology, called Gascoigne one of the best poets writing in what she still calls "that fallow time." Ivor Winters thought him a better poet than Samuel Daniel or Michael Drayton, and his poems are appearing in greater quantity in anthologies, not to mention being reprinted on the Web, where the complete text of A Hundreth Sundry Flowres may be read. His account of military expeditions in Holland deserve a reading, too, and The Adventures of Master F.J. is a signifcant work of early Renaissance prose fiction which deserves at least as much attention as Nashe's Unfortunate Traveller.



3. Books and Articles

(a) Gascoigne's Works

NOTE: Complete texts of all the major works are available
through the George Gascoigne pages on the Web.

Newer texts include:


Ariosto, Ludovico. Supposes. Tr. George Gascoigne.
Jointly edited, with an Introduction by Donald Beecher and
Annotations by John Butler.
Ottawa: Dovehouse Editions, 1999.

Gascoigne, George. Complete Works (2 vols.)
Cambridge, Cambridge University Press, 1907-10.

Gascoigne, George. A Hundreth Sundrie Flowres.
G. W. Pigman, Ed. Oxford: Clarendon Press, 2000.

Gascoigne, George. One Hundreth Sundry Flowres.
C.T. Prouty, Ed. Columbia: University of Missouri Press, 1942.

Gascoigne, George. Supposes and Jocasta.
J.W. Cunliffe, Ed. Boston: D.C. Heath, 1906.



(b) Biographical and Critical
Ardolino, Frank. "The Fictionalization of Master F.J.: An Analysis
of Gascoigne's The Pleasant Fable of Ferdinando Jeronimi,"
Essays in Literature I.2 (June 1973): 1-16

Haynes, Evelyn. "George Gascoigne: A Bibliography of Secondary Sources,"
Bulletin of Bibliography 49 (1992): 209-14.

Johnson, Ronald C. George Gascoigne.
New York: Twayne, 1972.

Modic, John L. "Gascoigne and Ariosto Again,"
Comparative Literature XIV, No. 3 (1962): 317-19

Prouty, Charles T. George Gascoigne: Elizabethan Courtier, Soldier, and Poet.
New York: Columbia University Press, 1942.

Schelling, Felix. The Life and Writings of George Gascoigne.
New York: Russell and Russell (1893), 1967.





Gascoigne | Works | Links | Essays | Books | Renaissance Lit



| | |
| --- | --- |
| | to George Gascoigne |


Biography copyright ©2000-2018 John Butler. Used with express written permission.
Site copyright ©1996-2018 Anniina Jokinen. All Rights Reserved.
This page was created by Anniina Jokinen on October 14, 2000. Last updated January 31, 2018.